Robinhood, an App that allows you to invest in stocks, options, and ETFs, all commission-free with ($0) no minimum deposit. Now allows you to purchase Fractional Shares and reinvest your dividends. If you don't know what a dividend is don't worry about it. I didn't know what it was until i got one. Whether it's Dividend Reinvestment or Dividend Rollover. Understanding what a dividend is, was the easy part, thanks to the Robinhood app chat bot. Understanding it's affects were a bit harder. The compounding effect of reinvesting your dividends can be nice if the stock rises. However, if the stock drops you will have compound losses. This is something you might want to try to remember. You can find out more information regarding financial lingo via Robinhood Learn.
In addition to allowing you to invest in stocks, options, and ETFs there is also an opportunity to receive a free stock after signing up by inviting your friends and family and they will receive a free stock and be able to do the same. You can earn up to $500 a year in stocks for referring individuals. You'll find more information regarding their referral program near the end of this blog post. For now, let's talk about the two new features that have been added, one being Fractional Shares and the other is the Dividend Reinvestment Plan or DRIP.
What are Fractional Shares?
Fractional shares are pieces or fractions, of whole shares of a company or ETF. You can trade stocks and ETFs in pieces or fractions of shares. In other words, you want that $1,000 a share stock but you only have $1. So you buy a dollar's worth. If you've ever purchased Bitcoin then you're familiar with purchasing a fraction of something as opposed to the whole. Can you buy 1 whole Bitcoin, yes, but most people don't.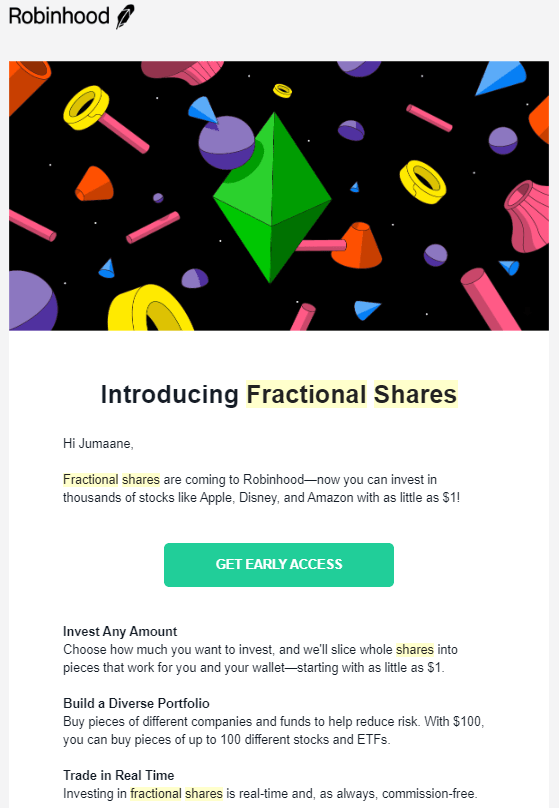 I received an email on the 13th of December, 2019 from Robinhood. Which said they were introducing Fractional Share purchasing and asked if I would like to be added to their waitlist. I clicked the "request early access" button in the email in order to gain access. Fast forward five months later.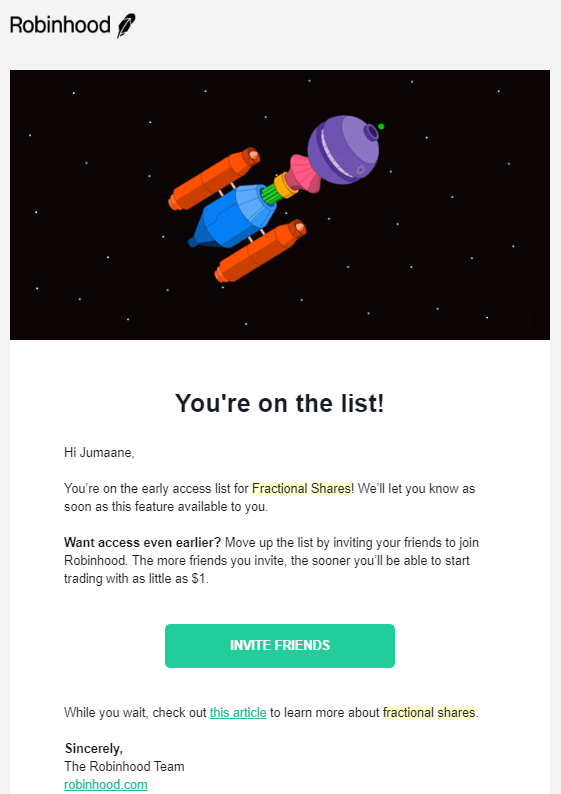 I received another email from Robinhood on the 11th of May. This email said that the wait was over. I would be one of the first people to get access to the Fractional Shares service. I took this opportunity to setup the service because there were a few stocks I was looking at investing in but hadn't yet. In the past I used the CashApp for fractional shares purchased. I even made a YouTube video showing how easy it was to buy stocks in 2020. Setting it up was a fairly simple process and was all done from my cellphone.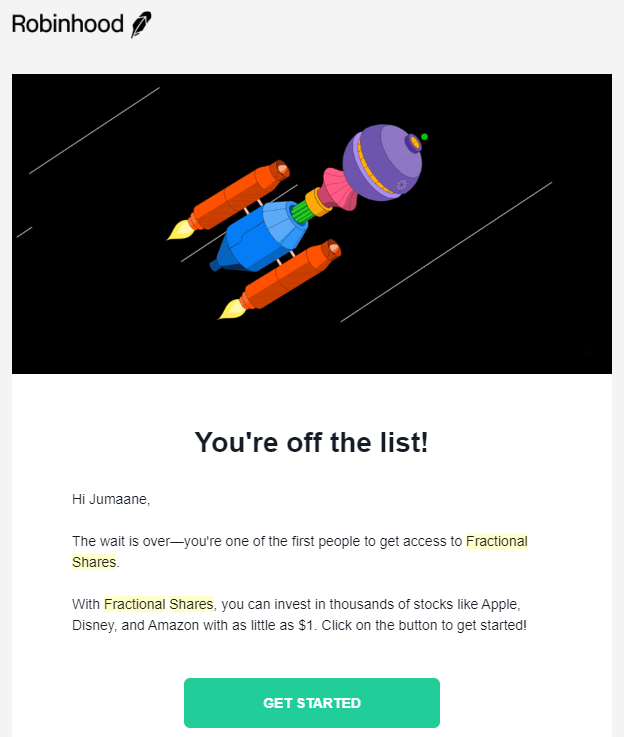 On Robinhood Fractional Shares can be as small as 1/1000000 of a share, and trading fractional shares is real-time and commission-free. Purchases of Fractional Shares are rounded to the nearest penny. If a stock isn't supported Robinhood will inform you know when placing your order.
How do you trade fractional shares?
You can place real-time fractional share orders in dollar amounts or share amounts. I prefer using the dollar amount because I know how much I want to invest more than how much/what percentage of a whole share I want.
When your on the page of the stock that you would like to purchase, tap Buy and decide if you want to Buy in Dollars or Buy in Shares and whether or not your purchase has conditions. Is it a limit order, stop order, stop limit order or trailing stop order. What's the difference between buying in dollars as opposed to shares? When purchasing fractions of a share it is better to "Buy in Dollars" but when purchasing whole shares of course it would be better to "Buy in Shares" since your looking to purchase 1 share and the price of said share fluctuates from second to second.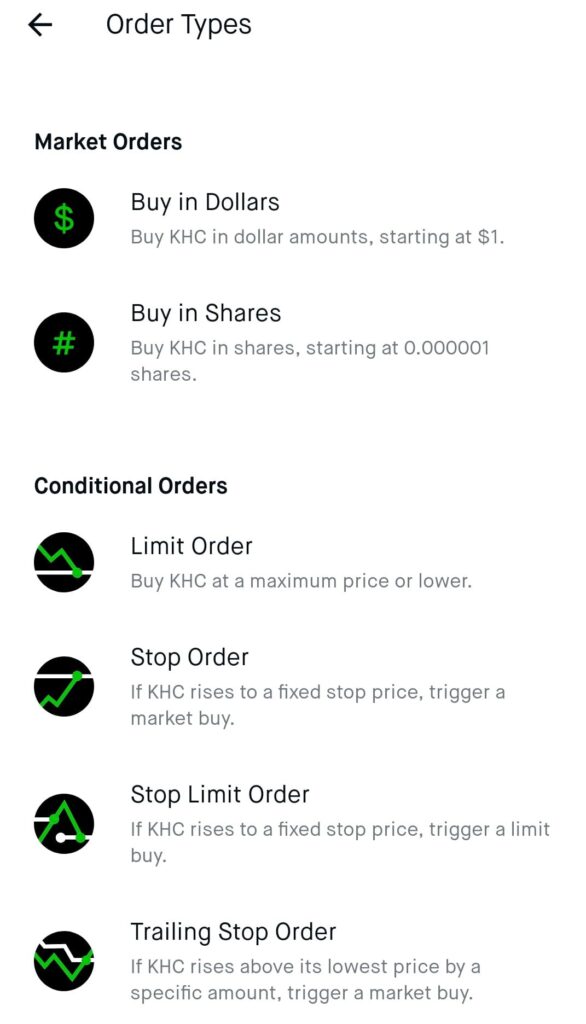 Once you select buy in dollars and choose your conditions if you have any. Enter your $ dollar amount and tap the green check, swipe up to confirm and your done. You should see an order completed receipt. You can now tap view order or done.
Fractional share trading is available for good-for-day (GFD) market orders only, extended hours aren't supported for fractional share orders. If you are purchasing whole shares you can execute your orders during extended hours and good-til-canceled which is up to 90 days. Extended hours are 9:00 AM to 6:00 PM as opposed to market hours only which end at 4:00 PM.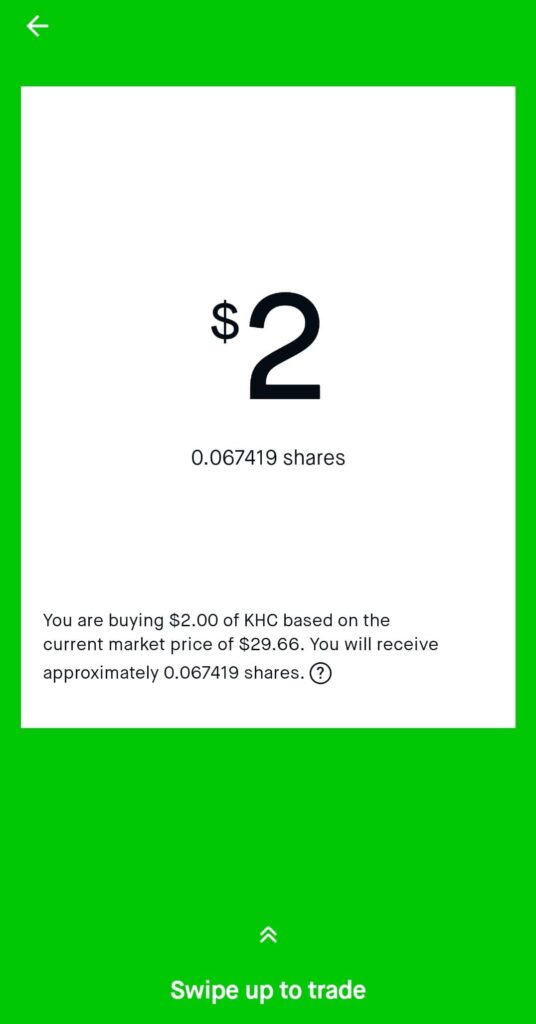 I would definitely recommend enrolling in the Fractional Shares program, especially if you plan on investing in companies with larger per share stock prices. In my opinion Robinhood is great for beginners. As a whole Robinhood is a great asset and tool.
Robinhood Dividend Reinvestment (DRIP) Program
Robinhood has a Dividend Reinvestment program called DRIP. A day after receiving an email from Robinhood about being accepted into the Fractional Shares program. I received an email stating that I was now able to access DRIP. It seems like you must be enrolled in the Fractional Shares program in order to enroll in the Dividend Reinvestment program. If you try to enable DRIP from the Investing menu, you will be prompted to enable the Fractional Shares feature and enroll in both. This is because the cash dividend received may not be enough to purchase a whole share so Robinhood uses that dividend to purchase a fraction of the share or fractional share if you will.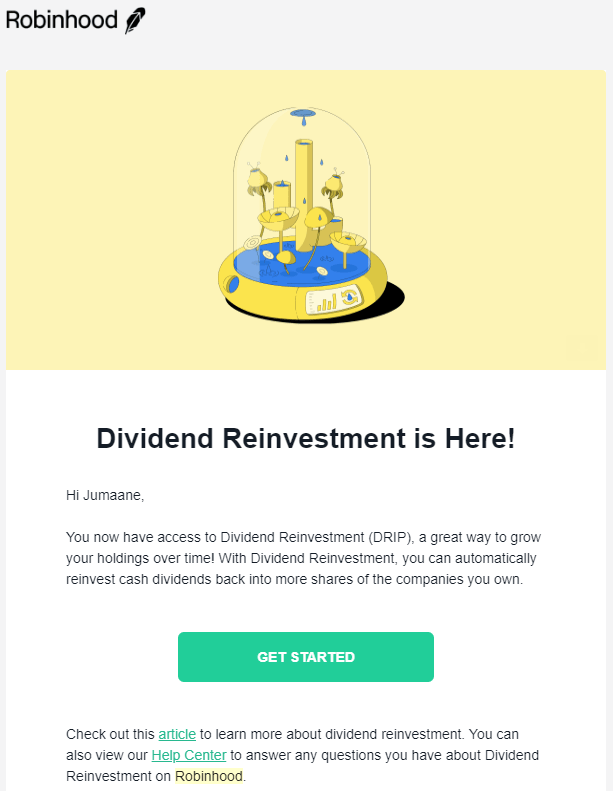 If your goal is to earn Dividend Income like mentioned in our post about several different types of income then you might not want to sign up for the Dividend Reinvestment Plan. Whether you use your dividends to pay your bills or you decide to roll them over and reinvest them you still have to pay taxes on it. When it comes to taxes, dividends you receive are not gains but rather income for that tax year. Tax rates differ based on whether they are ordinary or qualified.
How to Enable Dividend Reinvestment
In order to enable Dividend Reinvestment or enroll in DRIP, go to Account (Person Icon) > Investing > Dividend Reinvestment. Then, toggle the switch on and complete the onboarding process, if prompted. If Fractional Shares are not yet enabled they will be during this setup process.
In order to select which dividend-yielding stocks you want to reinvest dividends into after enabling Dividend Reinvestment. Sign into the app and tap the Account (bottom right corner) Icon > Investing > Dividend Reinvestment then tap Edit Dividend Reinvestment. Toggle the switch next to each stock that you don't want reinvested.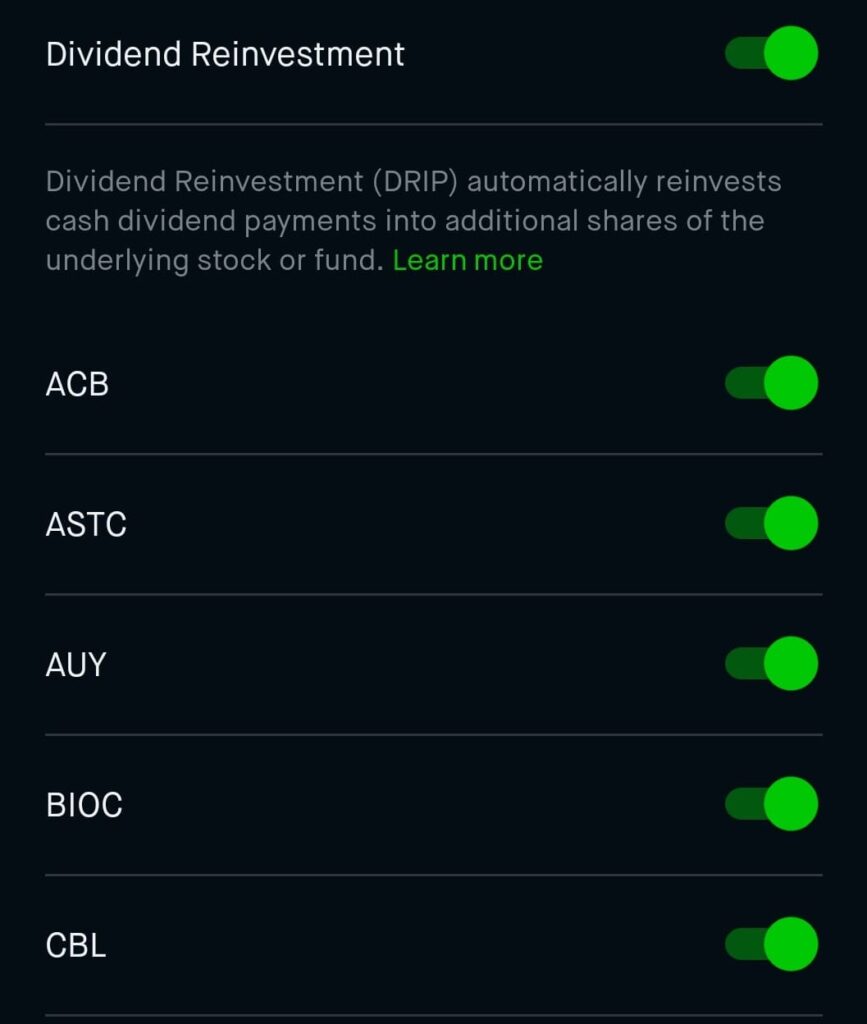 What Happens When you Receive a Dividend?
Robinhood will notify you when receiving a dividend and inform you that it will be reinvested at market open the following trading day. In most cases the dividend is not the same amount as the share price. For instance, below you can see that I purchased NGL Energy at a price of $5.48 per share. The dividend payment is $0.20 per share. I only own 1 share of NGL so I received a $0.20 dividend payment. If I had 2 shares of NGL it would be a $0.40 dividend payment. It would be necessary yo have 28 shares of NGL to receive a dividend payment of $5.60. That amount still may not be enough since $5.48 was the stock purchase price at the time of purchase. It's less than likely that the price will be the same by market open.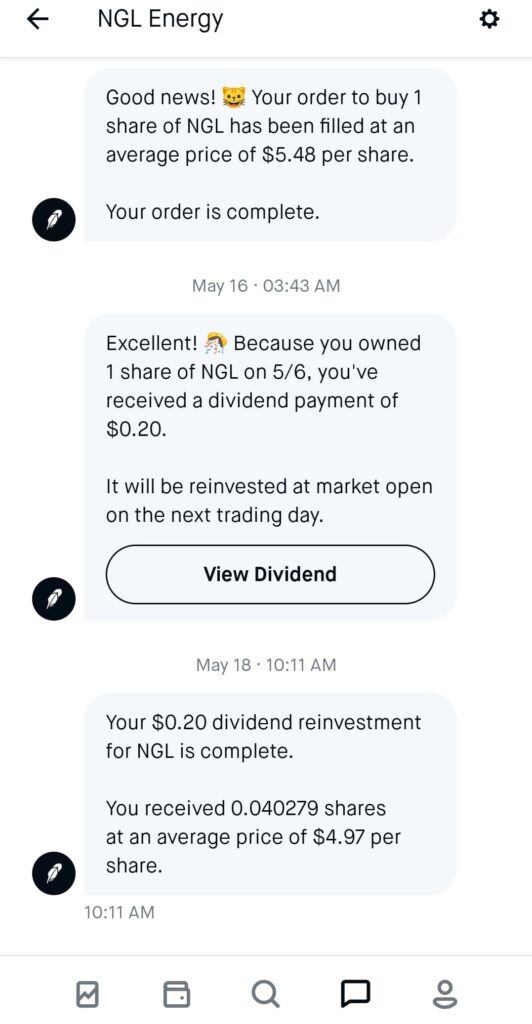 Robinhood sends another notification when reinvesting the received dividend and purchasing a fraction of the share. As you can see above, I received 0.040279 shares at an average price of $4.97 per share. When you need to see all your pending and past dividend reinvestments. Go to Account and then Statements & History and you will see your recent history. Scroll down further to access your Tax Documents and Account statements.
Robinhood Referral Program
Robinhood has a great referral program that allows you and the individual you invite to (sign up) receive a free stock. I say referral program as opposed to affiliate program because once you sign up for a Robinhood account you can begin to refer others. In most cases, you have to sign up for an affiliate program and in some cases must have some sort of influence and may have to go through an affiliate network. Robinhood makes it simple to invite your friends or share your link to your favorite social media platform.
How to Invite Friends to signup for Robinhood
Tap the account icon in the bottom right corner
Then Get Free Stock button
Tap Invite Contacts or Share link
Select which contacts you would like to invite or your Social media

Once you invite your friends and family and they click on your link or go to your URL they will be presented with a page that says their free stock is waiting for them and looks similar to the image below.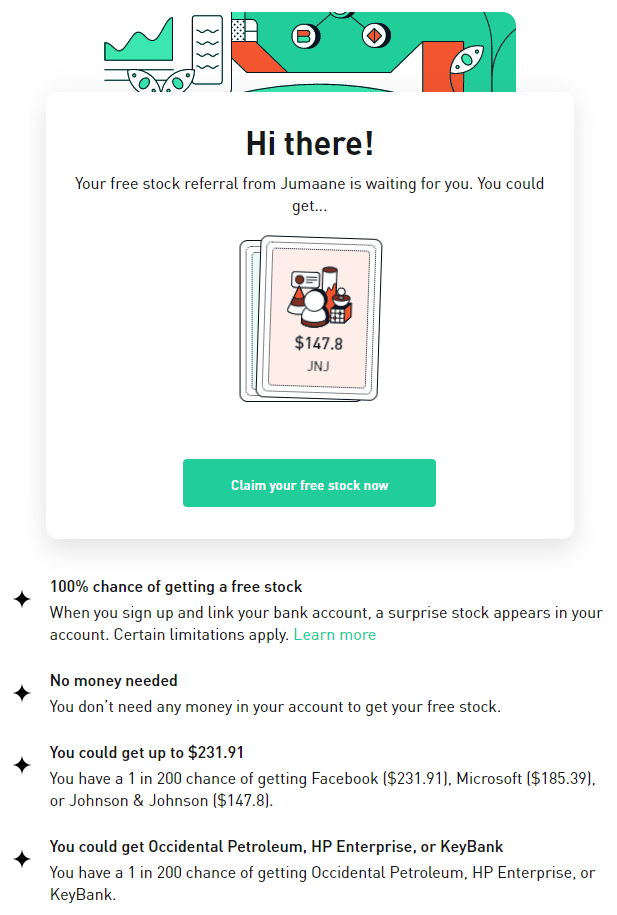 The Robinhood Free Bonus Stock Promotion
Make sure the person you invited knows to sign up by clicking your link or entering your URL. Mine is https://join.robinhood.com/jumaanw4 . . . just in case anybody was wondering. You can confirm whether your friend used your link by going to the Past Invites screen. Between Now and June 30, 2020 invite 3 friends and RobinHood will credit your account with a 4th bonus stock.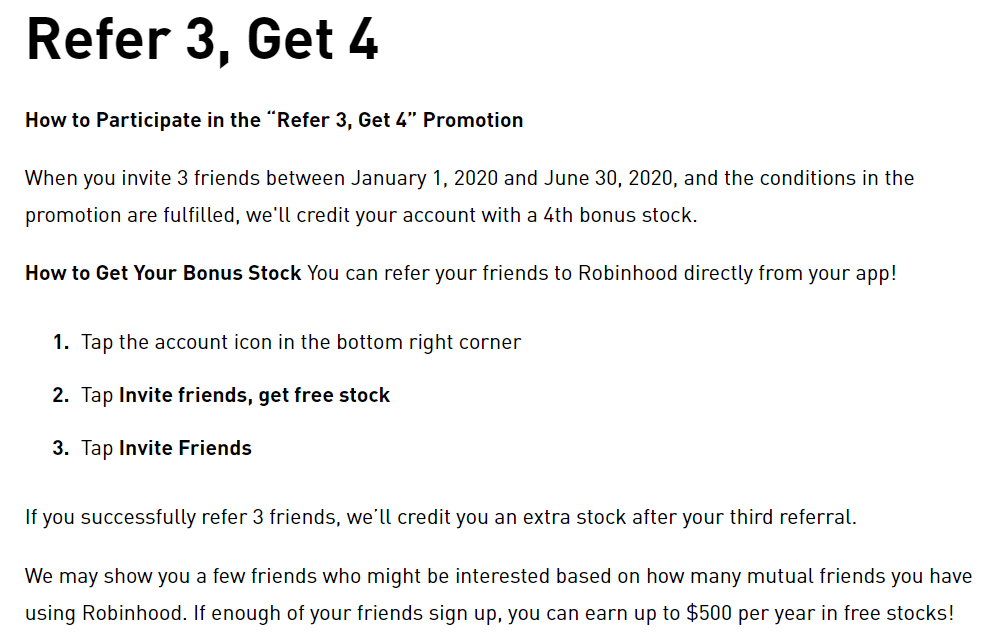 Per the terms and conditions there is a 98% chance of the stock bonus having a value of $2.50-$10. 1% chance of having a value of $10-$50 and a 1% chance of the stock bonus having a value of $50-$200. This is based on the price of shares at the time of purchase."
Conclusion
I hope you take full advantage of the opportunities made possible with the Robinhood app and take action today. No opportunities wasted, what do you have to lose. Investing is risky and you may win or you may lose, but receiving a free stock is pure profit. If you are already a Robinhood user or if you have never used Robinhood you have a little more than 30 days to take action in order to take advantage of the Bonus Stock Opportunity. The short-term opportunity is receiving the 4th Bonus stock for inviting 3 people to sign up for RobinHood via your affiliate link. The long-term opportunity is earning up to $500 per year in free stocks for your referrals. A few creative social media ad campaigns can assist with making this passive.
Please note that I am not a financial adviser and therefore I am not giving anyone financial advice. I am primarily a researcher as well as a risk taker. I am sharing my experiences and what I know after doing my own research, which I highly recommend. Please do your homework before any type of investment. Ask yourself all the necessary questions before taking the leap. Always remember that if it sounds too good to be true it just might be.